Three Simple Things You Can Do To Increase Your Leads
You can have the best product or service on the market, but if you don't have leads, you won't have sales. At the same time, you can have a so-so product or service and if you are able to secure leads, the opposite is true.
Here are a few ideas to generate more leads for your business:
Rank Up Your Website
A good place to start is to focus on "ranking up" your website. One of the mistakes many business owners make is they go to the effort to create a website then they just forget about it. Websites are not a create it and forget about it type of asset. They need to be kept relevant and up to date, to really take advantage of their potential.
If you are wondering whether having a website that ranks high in searches is important, check out these statistics :
46% of all Google searches are looking for local information (GoGulf)
97% of people learn more about a local company online than anywhere else. (SEO Tribunal)
88% of searches for local businesses on a mobile device either call or visit the business within 24 hours. (Nectafy)
To rank higher in search engines like Google and Bing, you can do things like SEO (Search Engine Optimization) or you can get started on your own. Doing simple things like refreshing the pictures, making sure your address is the same on everything (website, social media, directories, etc.), and adding new content is a start. This type of thing needs to be done every couple of months, at a minimum.
Every time you get someone to visit your website, you are sending a message to the search engines that you are relevant and people like you. They want people to like what they are recommending, so of course they are going to showcase those businesses that people seem to like. The more people you get to your website, the more people they will put there.
Get Testimonials and Reviews
Another often overlooked area is to get your current or past customers or clients to give you a review on review sites, like TripAdvisor, Google Review, Facebook, etc.
Why are these important?
92% of customers read online reviews before buying (Big Commerce)
72% of consumers say positive testimonials and reviews increase their trust in a business (Big Commerce)
70% of people trust reviews and recommendations from strangers (Nielsen)
The reality is most business owners often don't like to ask for these, but part of this is because they also don't give them. Get in the habit of not only asking for customers to give you reviews, but also take the time to hand out reviews to businesses you either work with or patron, as well.
Don't be afraid to not get all 5 star reviews and make sure you acknowledge and thank anyone who is willing to give you feedback on your business, Feedback is important and will help you get better to reach new customers.
Email Signature Marketing
If you are like most people these days, you likely send out at least 10 to 20 emails a day. Most times people make sure they put a signature block on those emails, but pass up the chance to share information about something that could be of interest to potential customers.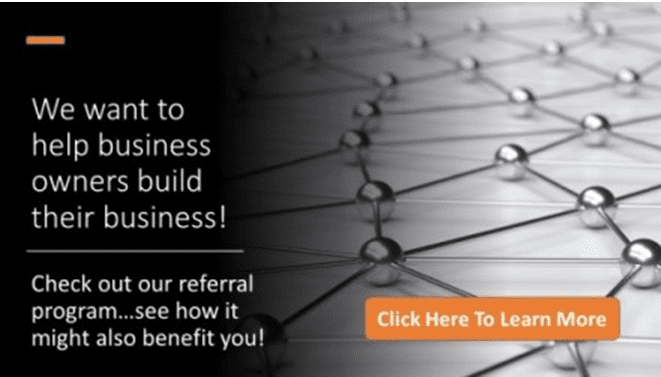 Email signature marketing is as simple linking a component of your signature (a picture like above or a phrase) at the bottom of your signature to a link on your website). Make it stand out a bit by changing the color and size of the font if you are using a phrase and be sure to put it under your signature. Most email programs offer the ability to link right in the signature set up.
Not everyone is going to click on it every time, but you will be surprise how many people will. Change it often so people notice there is something new and exciting happening in your business.
Many business owners worry about there sales process and yes, this is important, but equally important is finding the people to sell to. A little focus everyday in reaching new leads, will more than payback the time you invest.
---
If you enjoyed this article, sign up to receive notifications of new ones coming out.